Cecilia Boggio
Researcher
Adjunct professor
SSD: L-LIN/12 - lingua e traduzione - lingua inglese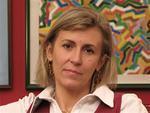 Contacts
+39 011 670 5746
Università degli Studi di Torino
Scuola di Management ed Economia
Corso Unione Sovietica 218/bis, 10134 TORINO
At
Dipartimento di Scienze economico-sociali e matematico-statistiche
Bachelor Program in Business and Management
Corso di studio in Economia
Corso di studio in Economia Aziendale
Corso di studio in economia aziendale, percorso business e management (fino al a.a. 2016/2017)
Curriculum vitae
Curriculum Vitae (0 bytes)
Office hours
In the 2nd semester 2019-20 (February-May 2020) I'll hold office hours on Wednesday from 10am to 12pm.
My office is in Corso Unione Sovietica 218bis on the 5th floor, room 5.05. If you really cannot make it to my regular office hours, you can email me and we'll schedule an appointment. Please check the heading "Avvisi" regularly as time changes may occur.
***************************************
Nel secondo semestre 2019-20 (febbraio-maggio 2020) riceverò gli studenti il mercoledì dalle 10 alle 12.
Il mio ufficio è in corso Unione Sovietica 218bis al quinto piano (stanza 5.05). Ricevo se necessario anche su appuntamento. Inviatemi una mail per concordare il giorno e l'ora. Controllare sempre la sezione "Avvisi" per eventuali modifiche o cancellazioni.