Caterina Saracco
Contract professor
SSD: L-LIN/01 - glottologia e linguistica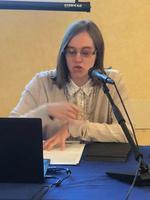 Contacts
n/d
n/d
Scuola di Management ed Economia
Corso Unione Sovietica, 218 bis
5° Piano, Studio 24
10134 Torino
At
Dipartimento di Management
Dipartimento di Scienze economico-sociali e matematico-statistiche
Bachelor Program in Business and Management
Corso di laurea in Beni Culturali
Corso di laurea in Storia
Corso di laurea magistrale in Scienze linguistiche
Corso di laurea magistrale in
Culture moderne comparate
Corso di studio in economia aziendale, percorso business e management (fino al a.a. 2016/2017)
Corso di studio in Economia e Management
Curriculum vitae
Curriculum Vitae (0.1 MB)
Selected publications
-2019 (in stampa) Saracco, Caterina, "Strategie per sopperire a un'assenza. Fenomeni di conversione in germanico", in Salvati, G. / Buoninconto, A. / Cesaro, R. / Russo, E. (cur.) Spazi bianchi. Le espressioni letterarie, linguistiche e visive dell'assenza, Mimesis Edizioni. (Atti di convegno)
-2018 Saracco, Caterina, Agnesina, Alberto, "Die Begriffsbildung von hugi, mōd und herta im Altsächsischen Heliand", in Tagungsband der 24. Linguistik- und Literaturtage in Brno: Sprachen verbinden. Hamburg: Kovač Verlag.
-2017 Saracco, Caterina, "Come metafore e metonimie creano significato: l'esempio dei composti possessivi nelle antiche lingue germaniche", in AION Sezione Germanica XXVII, (1-2), pp. 245-269. (Articolo in rivista di fascia A).
-2017 Saracco, Caterina "I composti possessivi dell'antico frisone", in Linguistica e Filologia (37), 155-188. https://aisberg.unibg.it/handle/10446/114963#.WkZNpyOh3ow
-2017 Saracco, Caterina, "Altsächsische Possessivkomposita: Eine kognitive Analyse", in Nefedov, Sergej / Grigorieva, Ljubov / Bock, Bettina (eds.) Deutsch als Bindeglied zwischen Inlands- und Auslands­germanistik. Beiträge zu den 23. GeSuS-Linguistik-Tagen in Sankt Petersburg, 22.-24. Juni 2015, Hamburg: Kovač Verlag, pp. 257-266.
-2017 Saracco, Caterina "Figurative language in Old Saxon: The case of possessive compounds", in Baicchi, Annalisa / Pinelli, Erica, Cognitive Modelling in Language and Discourse across Cultures, Cambridge: Cambridge Scholars, pp. 13-26.
- 2017 Saracco, Caterina, "Possessivkomposita im Altsächsischen: Was kann uns die Kognitive Linguistik sagen?", in Gieseke-Golembowski, Francis / Schaaff, Kathrin (eds.): Wörter bilden. Hamburg: Baar Verlag, pp. 147-162.
-2017 Recensione di Twentieth Century Borrowings from German to English. Their Semantic Integration and Contextual Usage di Schultz, Julia, Peter Lang Edition. https://linguistlist.org/issues/28/28-4379.html
-2016 Saracco, Caterina, "Il faroese e l'ortografia: proposte di uno standard (XVIII-XXI sec.)", in Grammatiche e Grammatici. Teorie, tesi e contesti. Atti del XXXIX Convegno della Società Italiana di Glottologia (Siena, 23-25 ottobre 2014 , Roma, Il Calamo, pp. 285-291.
- 2016 Recensione di Syntax and Style in Old English di Andrew, S. O., Cambridge University Press. http://linguistlist.org/issues/27/27-2535.html.
-In preparazione Saracco, Caterina - Micheli, Silvia "Tedeschismi e germanismi nel GRADIT: proposta di analisi e classificazione".
-In peer review Saracco, Caterina, "Fenomeni di grammaticalizzaizone in bahuvrihi germanici", in Alessandria.
Research topics
My research interests concern the morphology and semantics of the Old Germanic languages, in particular Gothic,Old Saxon and Old Norse, studying phenomena by adopting a cognitive approach.
I am also interested in the onomastics and anthropology of the ancient Germanic peoples (mythology, astronomy, poetry and archeology).
Office hours
Studenti delle lauree magistrali in economia e della triennale in Business & management: giovedì dalle 11:30 alle 12:30 su appuntamento presso il mio studio al V piano del polo didattico, C.so Unione Sovietica 118b.
Studenti delle lauree in beni culturali e storia: al termine delle lezioni fino a nuovo avviso.
Studenti di linguistica tedesca: al termine delle lezioni fino a nuovo avviso.