Daniel Torchia
Contract Professor
SSD: SECS-P/07 - business administration and management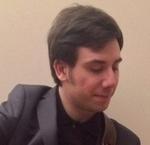 Contacts
n/d
n/d
Corso Unione Sovietica 218 bis, Torino
First floor, central corridor, 2nd door on the left
At
Department of Management "Valter Cantino"
Dipartimento di Management "Valter Cantino"
Bachelor Program in Business and Management
CdLM Business Administration
Curriculum vitae
Curriculum Vitae (0.4 MB)
Research topics
My main research interests are in alternative forms of organisations and Critical Management Studies. Specifically, I study those organisational models that promote more humane forms of management by going beyond mere means-end rationality. I am also extremely interested in researching sports organisations. For my PhD thesis I investigated the challenges and possibilities for (utopian) organisations in sport, led by fan groups, to make a difference and to represent a viable (and sustainable) alternative to mainstream business and management models. This ethnographic study was conducted at FC United of Manchester, a fan-owned, semi-professional football club in Manchester (UK) that promotes democracy, inclusion and sustainability as core values.
Currently, I am involved in a multidisciplinary research project, aimed at assessing the socio-economic impact of megaprojects, and stakeholder engagement and management in complex organisations.
My interdisciplinary approach to research allows me to see organisations from different points of view: I am a firm believer that Business and Management studies can benefit from other disciplines such as sociology and anthropology.
Research projects
Activities in agenda
Academic bodies
Office hours
By appointment to be agreed via email