Laura Corazza
(RTDb) Assistant Professor
SSD: SECS-P/07 - business administration and management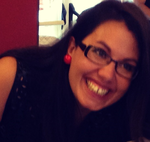 Contacts
0116706014
n/d
Corso Unione Sovietica 218 bis, Torino
First floor, Office 1.28

-----
Telegram Group for Business Administration_2022:
https://t.me/BA202223
Telegram Group for Sustainability Accounting and Accountability 2023:
https://t.me/SustA2023
-----
At
Department of Management
Dipartimento di Management
Bachelor Program in Business and Management
Corso di studio in Amministrazione e Controllo Aziendale
Scuola di Studi Superiori "Ferdinando Rossi" dell'Università degli Studi di Torino - SSST
Curriculum vitae
Curriculum Vitae (0.4 MB)
Research topics
Business ethics, Corporate Social Responsibility (CSR), Social and Environmental Accounting and Reporting (SEAR), Social enterprises, social innovation, and social impact measurement and assessment, Stakeholder engagement
Se sei un mio studente e sei interessato ad approfondire le mie tematiche di ricerca, o sei interessato a saperne di più sui miei progetti, sulle motivazioni per cui le conduco, gli obiettivi e a come prenderne parte, oppure ancora ad affrontare in modo dialogico una discussione costruttiva su questi temi, sarai sempre il benvenuto.
ENG: If you are one of my student and you are interested in learning more about my research topics, or you are interested in learning more about my projects, my motivations for conducting them, my goals and how to take part in them, or if you would like to have a constructive discussion about these topics in a dialogical way, you are always welcome.
Research projects
Office hours
Cari studenti,
di norma preferisco ricevere su appuntamento, per poter venire incontro alle diverse esigenze di luoghi e tempi. Vi pregherei di contattarmi via mail a laura.corazza@unito.it
Sono sempre disponibile prima, in pausa e dopo le lezioni.
Dear Students,
Usually I prefer to schedule my office hour by appointment, to be free to accomodate all my students' needs in terms of location and hour. I would like to kindly ask you to, first, contact me by email writing at laura.corazza@unito.it
I am always available before and after a lecture, as well as, during the break.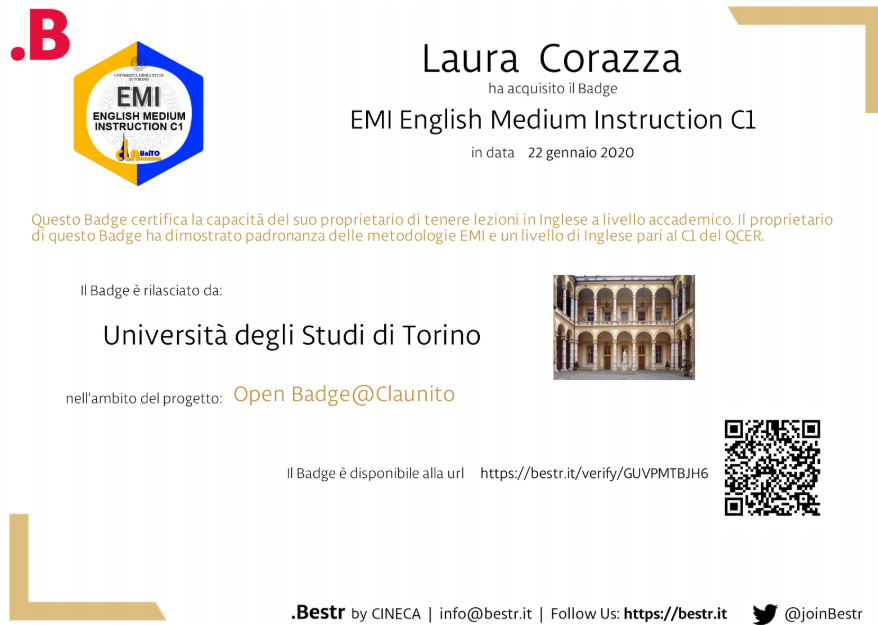 La Prof.ssa Laura Corazza ha conseguito questo Badge.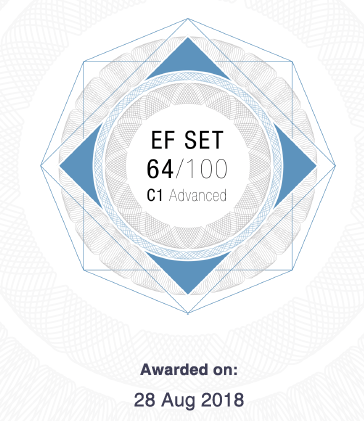 La Prof.ssa Laura Corazza ha conseguito questo Badge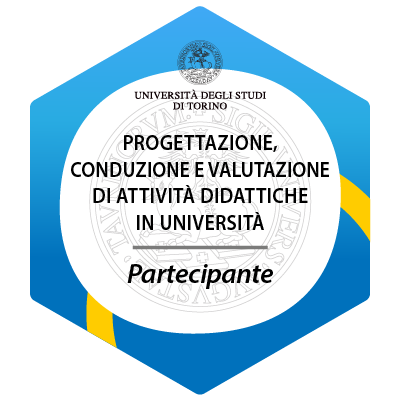 La Prof.ssa Laura Corazza ha conseguito questo Badge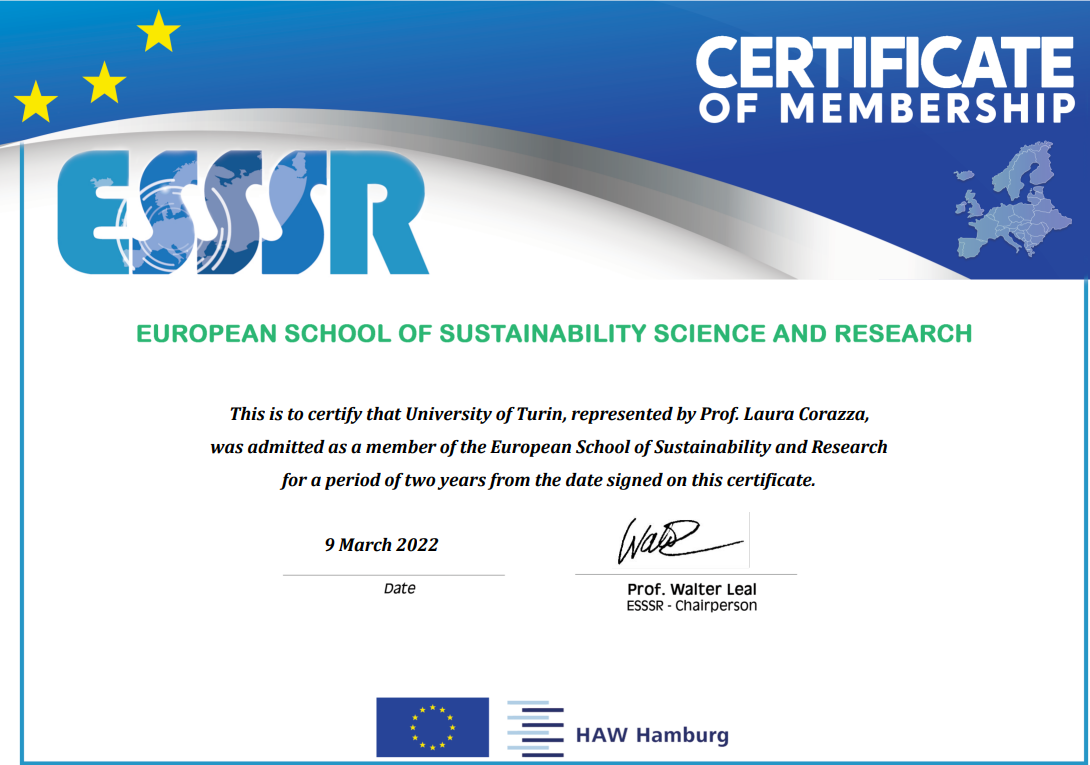 La Prof.ssa Laura Corazza rappresenta UniTo all'interno dell'European School of Sustainability Science and Research
Componente della Commissione didattica paritetica della SME CDP